In partnership with the National Indian Council on Aging (NICOA), the Alzheimer's Association is offering a one-hour webinar "Understanding Alzheimer's and Dementia" on October 20.
This free webinar will examine the impact of Alzheimer's, particularly as it affects American Indian and Alaska Native individuals. Other areas covered in the program include the difference between Alzheimer's and dementia, disease stages and risk factors, current research and treatments, and information on how individuals and families affected by the disease can access Alzheimer's Association resources. Valerie Tsosie (Navajo), an Alzheimer's Association community educator, will lead the webinar.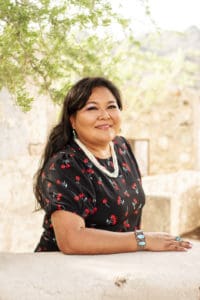 Valerie Tsosie is the Caregiver Resource Specialist with the Division of Aging and Long Term Care Support for Window Rock and Community Educator for the Alzheimer's Association.
This webinar will take place on October 20 at 11 a.m. PT / 12 p.m. MT. Individuals interested in attending can register here.
To read more information about this webinar, click here.